James Dines Parks
(Click any thumbnail image to view full size)
---
Family
James was born on 30th October 1903. 5 year old James appears on the 1911 census living at 96 Pembury Road, Tonbridge, Kent, with his Father William (45), a scaffolder and his mother Charlotte (39). Also in the household are James' older siblings, Ethel (12), Stephen (9) and John (7), plus his younger sister Rose (3). The census notes that James' parents previously have had 4 more children who died. A photo of how their house looks today is shown below (click to enlarge).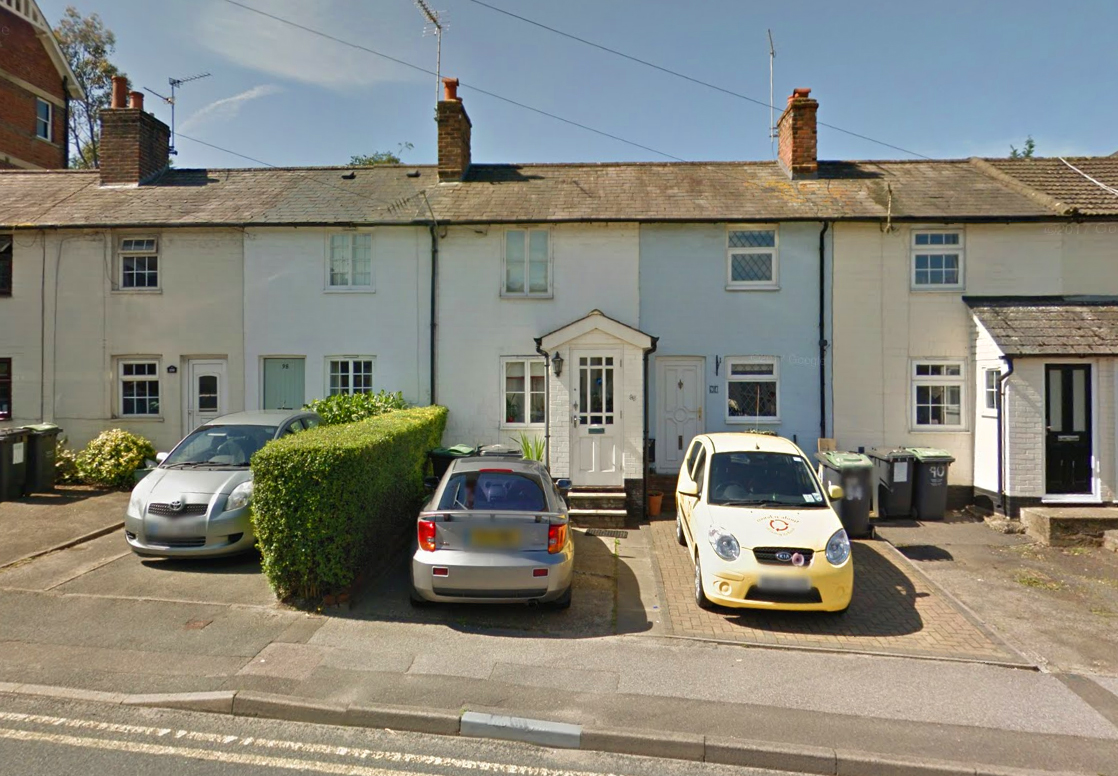 1911 Census
Birth Registration
---
James Dines PARKS (WOII - Warrant Officer Class 2 - Company Sergeant Major)
6338044 (later 22259473), Numerous Battalions, (Queens Own) Royal West Kent Regiment
Defence Medal, War Medal and Army Long Service & Good Conduct Medal
On 23 May 1922 at the age of 18 James Parks signed on for a short service engagement with the Queen's Own Royal West Kent Regiment. He was a pretty average sized chap at 5'6.5" and a 35" chest with the scars of his labourer's job all over both hands.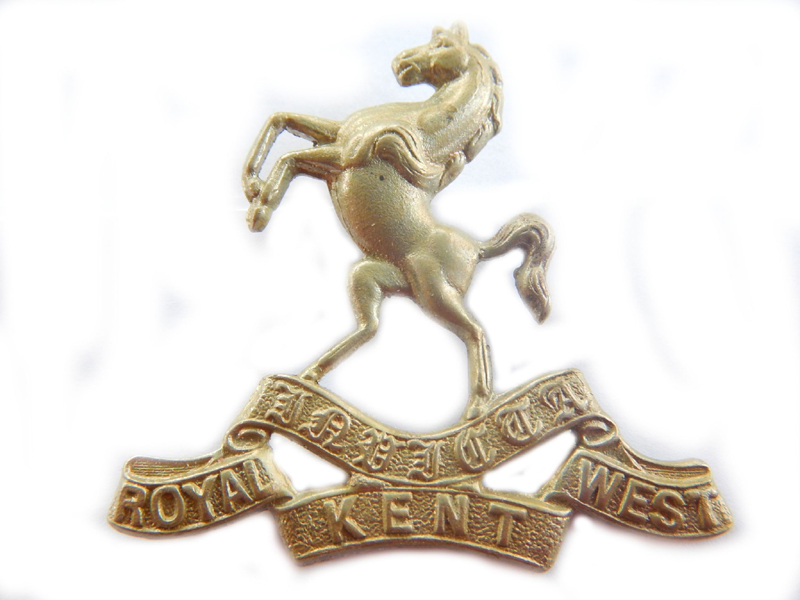 After completion of four months of basic training at the RWK Depot at Invicta Barracks, Sandling Road, Maidstone, James was posted to the regiment's 2nd Battalion based at Ballykinlar in Northern Ireland where he remained until 15th February the following year. He was then posted to the regiment's 1st Battalion in India. The battalion was based in Poona after being involved in the Third Afghan War and the putting down of a Mahsud tribal rebellion on the Northwest Frontier.

James was part of a draft of men who embarked on HMT Glengorm Castle (see images of the ship below - click to enlarge) at Southampton on 15th February 1923 for the month long voyage to Bombay on India's west coast. Here He settled down to the exotic but dull life of a British soldier in the sweltering heat of tropical India where sport played a more important part in life than rough soldiering.
He passed his 3rd Class Army Certificate of Education (ACE) in August the following year and was appointed an unpaid Lance Corporal in February 1927, finally gaining his pay in March the following year.

Life must have been reasonably agreeable because in January 1929 James signed on the complete 12 years service with the colours. The following year the battalion returned to England and James was posted the RWK's 2nd Battalion based in Guernsey on 24th April 1930. Later that year he lost his stripe, was demoted to private, and in January 1931 was posted to the RWK Depot for three years, during which he passed his 2nd class Army Certificate of Education (ACE) and signed on for a full 21 years with the colours.

James returned for full duty with the 2nd Bn at Shorncliffe, near Folkestone, in 1934 and was a L/Cpl again later the same year. He returned to the depot for a further two years in 1936 before joining the 1st Bn still at Shorncliffe. He then again lost and regained his stripe within a two-month period and passed his Corporals Promotion Exam. He also found time to marry Iris Ermyn Bond and their first child, James Thomas William, was born in Maidstone in 1937.

In June 1939 with war looming on the horizon James Parks was again posted to the RWK's Depot where within a month he was promoted to full Corporal and was heavily involved in the business of preparing his regiment to go to war. In November 1939 he was posted to 224 Infantry Training Centre in Maidstone and promoted to the rank of Local Sergeant and by April the following year he was confirmed as a War Substantive Sgt.

With the massive expansion of the army there was a need for trained NCOs in combat units and in June 1940 James was posted to 50th Holding Battalion, a composite unit employed in the defence of Dover. In October the Bn was redesignated as 10th Bn RWK and organized as a conventional unit in 221 Brigade and employed in coastal defence. James was promoted to Colour Sergeant on 18th November 1940 to act as a Company Quartermaster Sergeant and the following month was promoted to unpaid Warrant Officer II and Company Sergeant Major.

The 10th Bn was destined to be converted into a Royal Artillery Light Anti Aircraft regiment but some six months later James was on the move again, this time to the RWK's 70th Young Soldiers Battalion, which was based at the RAF's Biggin Hill and Dettling providing static guards on various airfields and later on anti-paratroop duties. In August 1941 he attended a course at the Infantry NCOs' School and attained a B grading. – Good enough to see him confirmed as a war substantive WOII although in January 1942, for unknown reasons, he reverted to the rank of Sgt at his own request. In November that year the 70th Bn was disbanded and the unit was converted into 28th Primary Training Centre which in turn was disbanded in February. On 8th February 1943 James was posted to 13th Infantry Training Centre in Maidstone where he remained for the duration of the war.

On 31st December 1943 Sgt James Dines Parks was awarded the Army Long service and Good Conduct Medal with a gratuity. His wartime service also earned him the Defence Medal and the War Medal 1939-45. He was released from active service in August 1945 and finally discharged from the Regular Army on 5th October 1949. His conduct was accessed as Exemplary and his CO wrote that he was "a capable and experienced NCO who has given long and faithful service to the regiment and the army. A strict disciplinarian, reliable and hard working. (He) has proved loyal, honest, sober and trustworthy."

He had served 27 years and 136 days and quite possibly never heard a shot fired in anger.

As if that was not enough; the day after his discharge from the Regular Army James signed on as a private soldier with the RWK's 4th Bn in the Territorial Army with the number 22259473. It took him just four months to be promoted back up to Sgt. He served precisely four years with the TA and dutifully attended training and annual camps, bringing his total military service to an impressive 31 years and 136 days.

But of course not all his life was devoted to the army. In May 1947 James Parks took on another uniformed job when he joined the Post Office as a postman. And on the domestic front his daughter Joan S was born on 30th August 1949.

His wife Iris died in 1977 and James Parks followed her on 2nd June 1981 after suffering a heart attack. He was by then living in Linton Hospital, Coxheath, near Maidstone, Kent, an old folk's home based in the former Maidstone Workhouse.
James' service records are long and extensive, but too large (A3) to scan in and link on this page for the moment.
James Dines Parks - Listed in the Royal Mail Appointment Book of May 1947
James Dines Parks - Marriage in 1936
James Dines Parks - Death Register in 1981
James Dines Parks - Certificate of Death
Book referencing the temporary Battalions of the RWK Regt (PDF) - Page 1 , 2 , 3 , 4