Ernest Charles Hood
(Click any thumbnail image to view full size)
---
Family
Ernest was born on the 9th December 1888 and first appears on the 1891 census, living with the rest of the Hood family at 57 Park Barn Road, Ryarsh, Kent. His father Mark (33) was working as a farm labourer. The rest of the household comprised of Ernest's mother, Eliza (29), his half-brother George Sutton (10) (contrary to the census document he was in fact using his mother's maiden name - he was also born prior to to Eliza's marriage to Mark), baby brother John (5 months) plus his older sisters; Sarah (6) and Doris (5). Ernest also had a brother, Frederick who died when Ernest was just a baby in 1890, aged just 8.
By 1901, the family had moved to "Number 20", in the village centre of Ryarsh. The two girls don't appear on this census, possibly having moved out. The family has still increased somewhat, with the addition of Minnie (8), James (4), (Elizabeth) Lillian (3) and Sidney (2). Ernest's half-brother George (by now 20 years old) is now also working as a farm labourer, with 13 year old Ernest working as a houseboy / domestic servant.
On the 1911 Census 23 Year old Ernest is living in the single quarters at Broadstairs Police Station, he is now a Police Constable.
In October 1912, Ernest married a woman called Ellen Harriet Gurr, who sadly died during giving birth to their son, Ernest William S Hood, in 1915.
Below is a link to a damaged photo of Ernest in his police uniform it is clearly marked "Ern", therefore Ernest is referred to thus in the remainder of this write-up. There are a few other photos of his family taken at various stages of their life too.
Ern in Police Uniform
Ern's Mother Eliza Hood (nee Sutton)
Ern's Mother, Eliza, with his older brother Frederick (who died in 1890 aged 8)
Ern's Sister Doris with Husband and Daughter
Ern's Sister Sarah other Siblings Elizabeth, James and Sidney, in about 1902
Ernest Charles Hood - Marriage in 1912

---
Ernest Charles HOOD (Petty Officer / Sergeant)
206053 / 5063, Royal Naval Air Service / Royal Air Force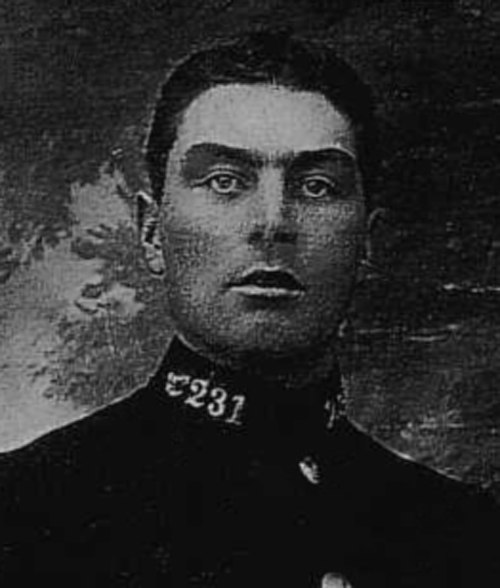 British War Medal and Victory Medal
(pictures to follow)
Ern volunteered and enlisted in the Royal Naval Air Service on the 29th June 1915. His younger brother, James had already been serving in the Grenadier Guards, having arrived in France in March. Ern appears to have entered service as a Petty Officer, probably in light of his previous service in the police force. After training, he was classified as a Petty Officer Mechanic on "Airship Rigging".
In July 1915, just after enlisting, Ernest re-married. His new wife, Annie, was the sister of his previous wife who died in childbirth.
His very brief record of service shows that he served overseas for almost two years in Egypt from 19th January 1916 until the 9th December 1917. During this time, on the 1st August 1917, as part of the formation of the new Royal Air Force (where the RNAS and Royal Flying Corps were amalgamated), Ern was re-classified as a Sergeant Mechanic (the RAF equivalent of his previous rank of P.O.M) .
While Ern was serving in Egypt, he would have got word that his brother James had been posted as "missing". After having fought through the Battle of Loos and the Battle for the Hohenzollern Redoubt, the family would later learn that James had died during the battle of Battle of Flers–Courcelette, during the later stages of the Balttle of The Somme. His body was never identified and he is named and remembered, with honour, on the Thiepval Memorial to the missing.
Next, despite some conflicting information on the surviving documentation, Ern seems to have served on the 12th Balloon Base, and then at the 40th Depot Training Station at RAF Harlaxton, 3 miles south west of Grantham, Lincolnshire. Here, he was probably working as an instructor, demonstrating the sometimes dangerous work of rigging and repairing the barrage and observation balloons.
The circumstances around what happened next are a mystery, but he ended up at the Royal Naval hospital at Shotley, Suffolk, where he died just 3 months before the armistice on 6th August 1918. His body was brought back to Kent, and he is buried and remembered, with honour, in the Wrotham (St.George) Cemetery Extension, Wrotham, Near Sevenoaks, Kent. His headstone is shown below (click to enlarge). His widow, Annie, recieved his medals, memorial plaque and war gratuity totalling £26 12s 10d.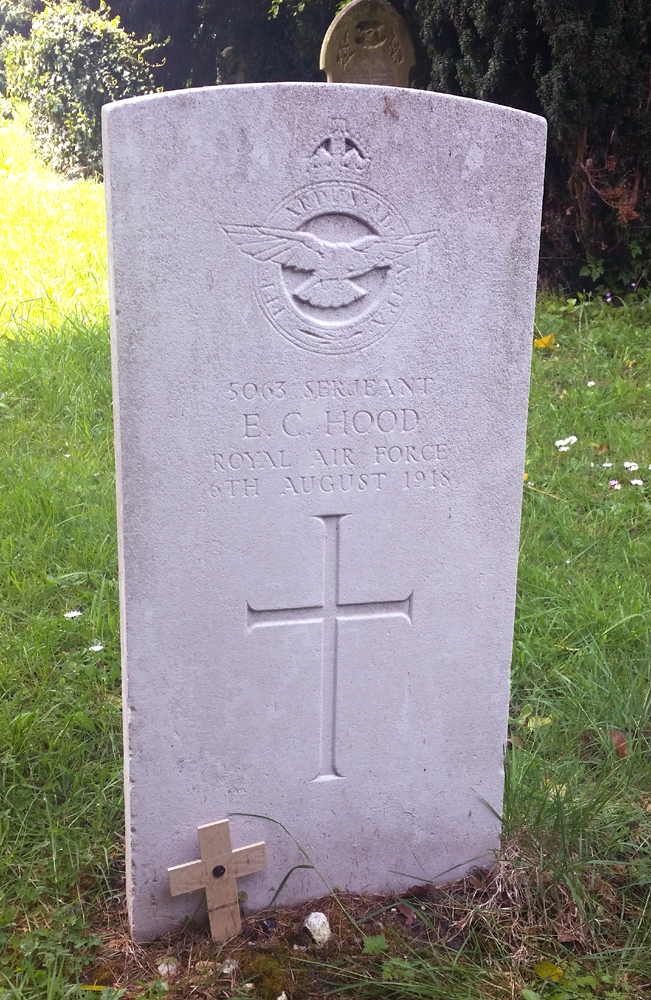 Both Ern, and his brother James are also remembered in their home village of Ryarsh on the parish memorial inside St. Martins Church shown below (click to enlarge).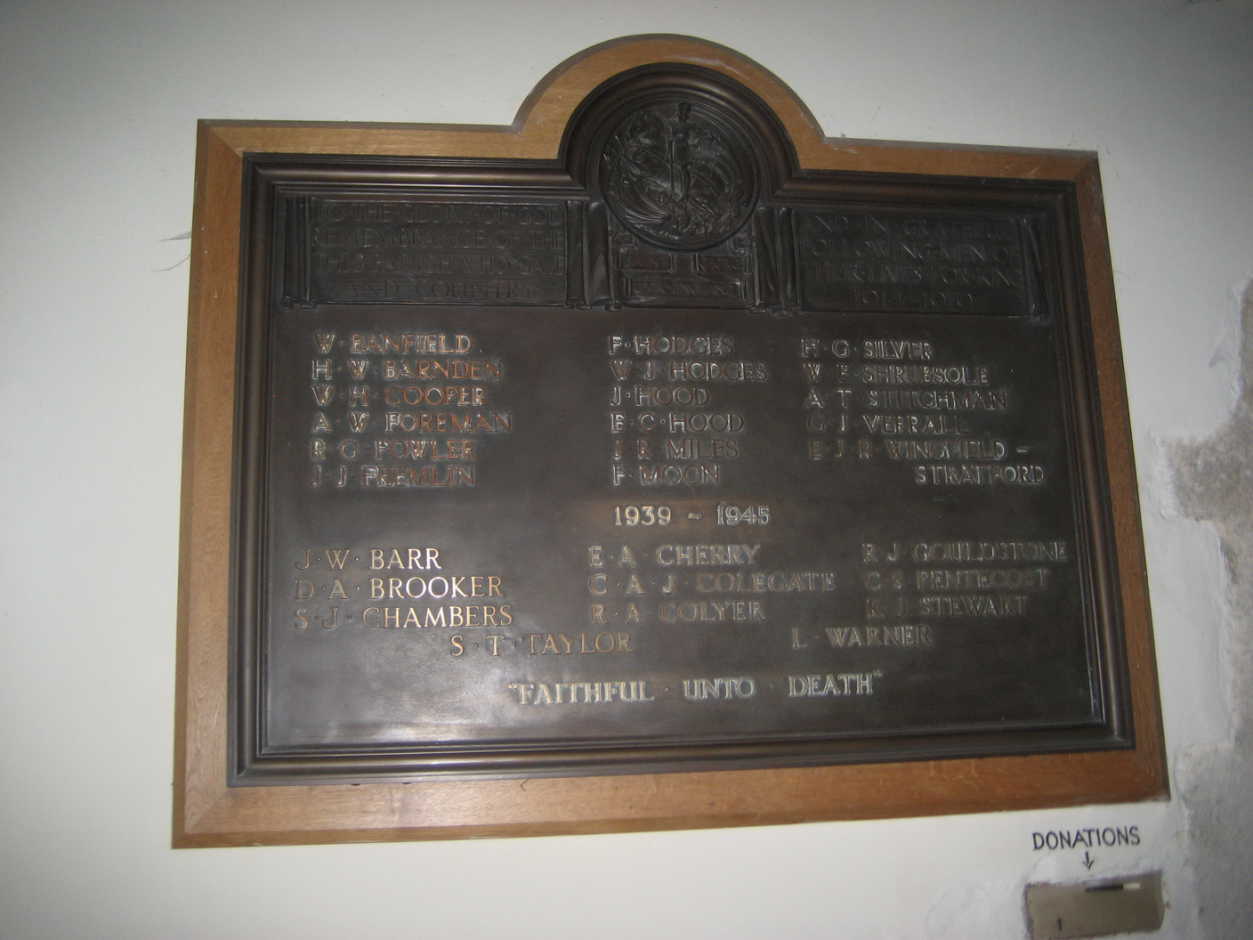 Ernest is additionally remembered, on his own this time, on the newly constructed Borough Green War Memorial. This came about because it was noted that he was not listed on any of the other memorials near his final resting place in Wrotham. Sadly, his brother is not remembered there with him also.
What happened to Ern's widow is not known, but his son, Ernest, died in 1991, aged 76.

Ernest Charles Hood - RAF Muster Roll
Ernest Charles Hood - RNAS Service Document
Ernest Charles Hood - On the Effects / Gratuity Register
Ernest Charles Hood - Grave Registration
Ernest Charles Hood - Headstone Schedule 1
Ernest Charles Hood - Headstone Schedule 2
Ernest Charles Hood - Cemetery Register
Ernest Charles Hood - Memorial Certificate (PDF)
Ernest Charles Hood - On the Kent Fallen List
James Hood - Memorial Certificate (PDF)
James Hood - Thiepval Memorial Register
James Hood - Medal Index Card
James Hood - Thiepval Panel List